A national charity partnered with local Oklahoma companies almost a year ago to give back to one who has given so much. Now, the project is nearly finished.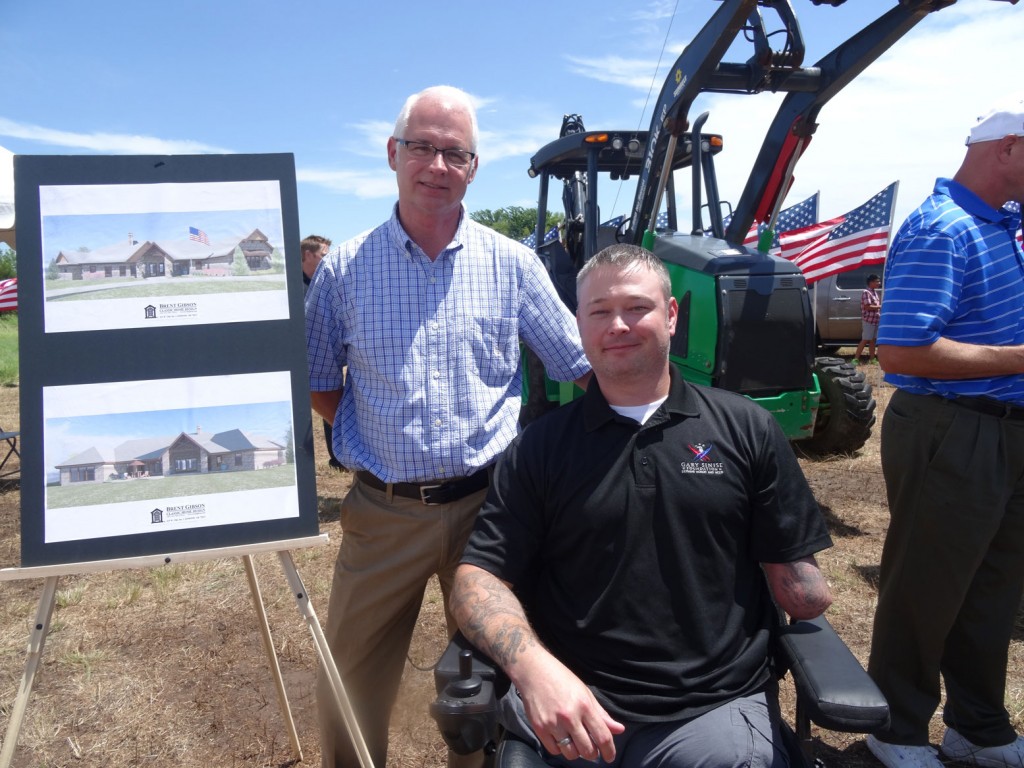 Brent Gibson, owner of Brent Gibson Classic Home Design, recently had the opportunity to design a home for Edmond Army veteran Rusty Dunagan through the Gary Sinise Foundation, which provides homes for wounded warriors.
"It was an honor that we got to work with Gary Sinise," Gibson said. "He's on a mission to help these wounded veterans that come home because they need a place to live and people to help them. So, this is how we give back to people that have served our country and taken care of us. This is something that we're proud to do. We love doing it and we love giving back to people."
Now retired U.S. Army Staff Sgt. Rusty Dunagan became a triple amputee after encountering a road-side bomb in active duty, when he lost both legs and his left arm in Afghanistan five years ago.
After recuperating in Germany and Texas, Dunagan found it a challenge to maneuver around his family home in Edmond, which isn't handicap-friendly. A father of five children – ranging in age from a 5-month-old baby to a 16-year-old – he faces many challenges in getting around his present home and helping to care for his family.
"They were living in a rental house," Gibson said. "The halls were too small; the doors were too narrow. It was not handicap accessible."
Brent Gibson Classic Home Design and Bowers Homes began the construction of the Dunagans new 3,500-square-foot home almost a year ago and have almost completed the project.
"We sat down with Rusty and Angie to talk about how they wanted to live in their home and looked at their property," Gibson said. "Then we designed a house that fit that family's needs."
To accommodate the family's needs with their personal style, Gibson created a spacious, modern ranch design with a "lodge feel."

"The house has kind of a nice little lodge feel to it, almost a resort," Gibson said. "They liked for the house to be livable and friendly. It provides a cozy and warm feeling for the family."
Sinise, an actor, film director and musician, was impacted by his role in "Forest Gump" as "Lieutenant Dan", who lost both his legs while serving the Army in Vietnam. Seeing the need for wounded veterans, the actor began the Sinise Foundation to promote community involvement in providing comfortable living for those who have served.
A dinner with silent and live auctions at the National Cowboy and Western Heritage Museum in March last year generated nearly $700,000 for the construction of a custom home for Dunagan, his wife Angie and their children. Preceding the event, Gibson said there was a special screening of "Forest Gump," attended by Sinise himself and about 300 local guests.
This project was not the first time Gibson Designs has accommodated handicap-accessible designs for a family, but all families have their own needs.
"Every family has special needs when you design a house for them," Gibson said. "What I've really emphasized with everybody I work with is that we listen to what a family's needs are. … … By doing that and listening, it has allowed me to fulfill the desires for my clients and provide a design that is workable and livable."
The Dunagan home is nearing completion, according to Gibson the groundbreaking was a complete success.